I drove from the Law Forum in Concord about 40 miles east to Rochester, New Hampshire, for a Bernie Sanders town hall I had signed up for. The event was scheduled for 1:30 but the online notice said the doors would open at 12:30. This was the usual sort of timing, but I knew from a 2016 experience that if I wasn't in line by noon latest I probably would not get in. Bernie's events are always jammed, and if primaries were decided by enthusiasm he would win. As in fact I expect he will.
His event was to be in the Rochester Opera House. I found it and got in line outside to wait. The Opera House, which now is used as city hall but still doubles as an events and concerts space, is a pretty building. The crowd in line, despite frigid temps, was festive and was continually harangued in friendly fashion by hawkers of Bernie gear: hats, t-shirts, buttons, scarves, walking sticks (yes, really), and large photos of Bernie's face. It remains unclear to me whether all this is connected with and benefits the campaign, or if some is the fruit of entrepreneurs sensing a market. If the latter, they seem to coexist peaceably with the actual campaign.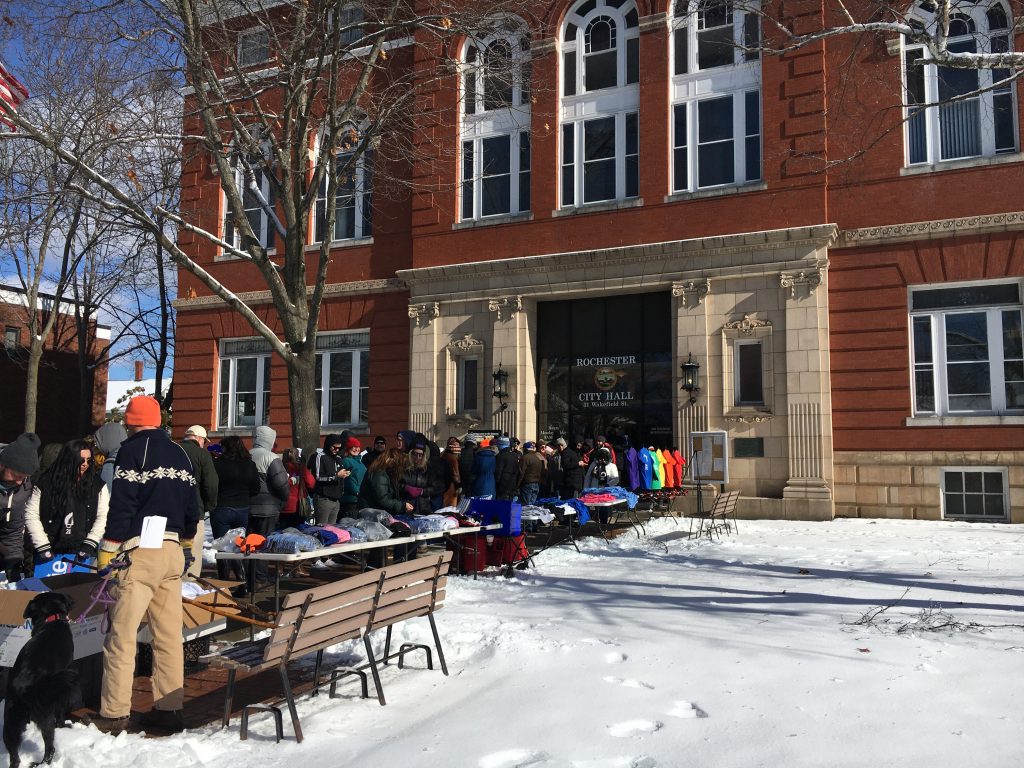 We enjoyed the sun, which felt warm whenever the wind stopped. I watched the gamboling of the young black lab – far left in the photo – that belonged to a Bernie worker from Chicago. He told me he writes a blog too, just started last week; his wife told him to write so he would stop screaming at the tv. He said it works.
Oddly enough, I did not get interviewed while waiting in line. I was asked once, but they were only looking for New Hampshirites and contented themselves with the mother and small son immediately behind me. I was however approached by a pretty, dark-haired girl who asked if she could photograph me; obviously not a media pro because they don't ask. I graciously assented. She was Meredith something (Mullaney? started with an M) and is a student in journalism at Northeastern.
The doors really did open at 12:30 and we inched our way in. Security volunteers would not let me take in my notebook — "because you could make a sign" (presumably some vile anti-Bernie sign). Being the resourceful type I am, I backed off the line for a bit, tore out one sheet from my spiral book, and stuffed it in my pocket for possible use. Back in line, I handed over the notebook after getting their assurance I could pick it up at this table after the event. (I fretted about that, but afterwards they did have a table full of people's stuff, mostly water bottles, and my book was there.)
I found a seat on the aisle. The rest of the row filled up with groups of people but the single seat next to me remained open, until a lady came along and asked if it was available. She sat and we talked; she'd just retired a few months ago and was having second thoughts; she'd done all the projects around the house that she had planned and now felt a bit purposeless. I think her business had been high-end furniture or furnishings. Her kids were out on their own lives – I mentioned mine and we found a Maine connection – and she said once the kids go, you get dogs and cats. Well she had me there; one dog and two cats to confess. But happily retired.
A woman came over to interview us but spoke mostly to my neighbor once she learned I was not from New Hampshire. The interviewer asked our names and our ages. I gave mine but told my row-mate that she did not have to disclose her age (suave, right?) and she laughed and said she didn't mind. So I got to briefly know Terri Mullins, who is 65, and who looks a lot like Glenn Close, though I didn't say that to her.
Bernie was again preceded by Michael Moore, which was fun; Moore gave a great impression of the young Bernie at an actual 1963 civil rights protest in which Sanders was arrested — "You're not taking me!" or some such — exactly mimicking Bernie's present voice; Moore adding "He probably didn't sound like that in college though."
Sanders gave a strong, even impassioned, speech. It's doubtless his standard stump speech, tweaked here and there for the occasion, but his sincerity is palpable. He had the crowd roaring its approval and was interrupted with applause more often than in speechwriters' fondest dreams.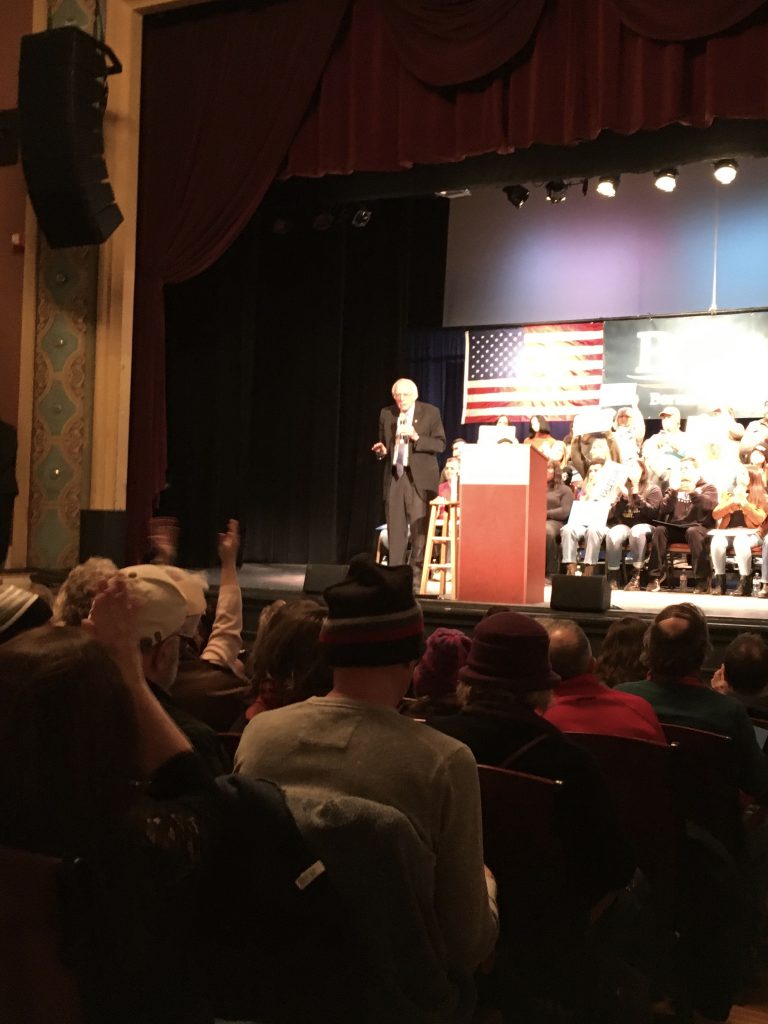 Before Sanders came on, I noticed a woman on the aisle about four rows in front of me. Mostly I saw the back of her head. She would put her hair up, with a clip, then take it down, then pin it again. Familiar. Could it be? She turned to chat with the woman next to her. They both looked suspiciously Danish. The return of Sigrid! I had told her at the Klobuchar event that we would likely cross paths again, and we had, at Buttigieg's, but this was too much; the mind reeled at the odds. Perhaps showing up at the same events was not wildly improbable, but being close enough again to recognize her?
Dear readers, I know, I know. At this point, you're thinking this is just dramatic license, and none too original at that. There is no Sigrid; it's a cute story, a nightingale dropped in to relieve an otherwise boring epic (or more appropriately, saga). I am reminded of Ulla – if I have the name right – a young Scandinavian woman, a character in Anthony Shaffer's play Sleuth, with eyes like the frozen lakes of Sweden… but we never get to see Ulla in the play. Is she real, or one more fabrication?
Fortunately I had the means at my disposal to dispel doubt. I explained the predicament to Sigrid; who'd believe I'd run into her again? I had told her about the blog and given her my card with its address. How about a picture? Her lady friend gladly agreed to take it.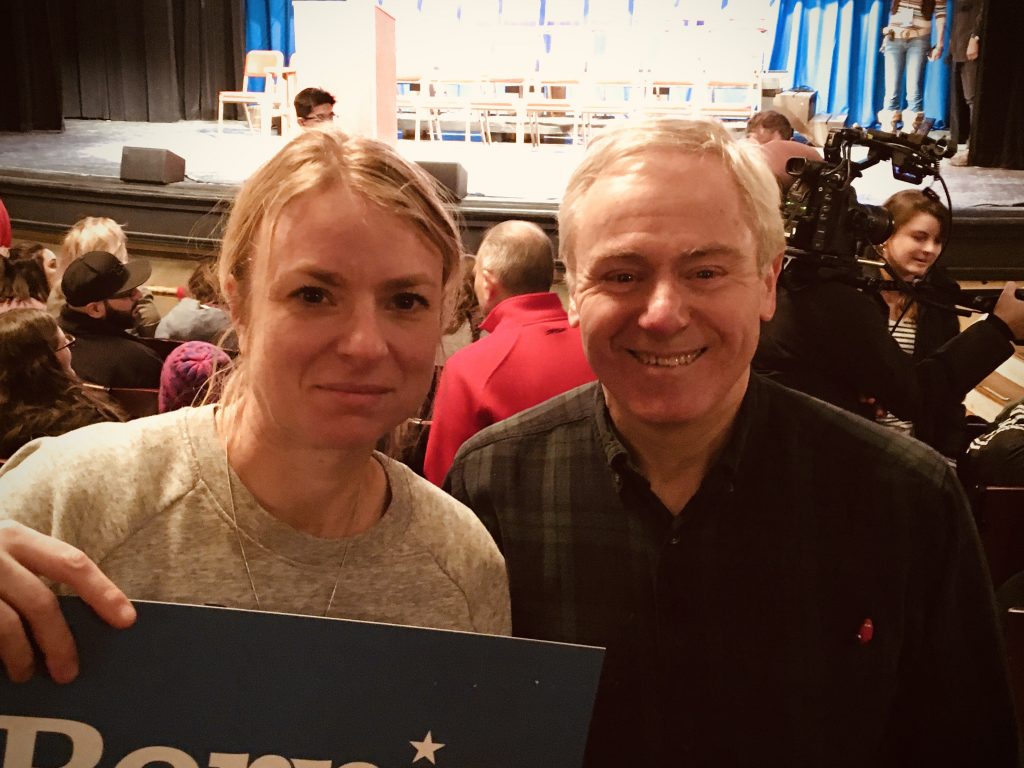 So there.
No fake news here.