Sunday morning I woke up about 9:30 after a good nine hours' sleep. My first and only event today is a Biden rally scheduled to open at 3:15. Anyone who knows me well can surmise what I did next: rolled over and went back to sleep. If I'm not going to church, why be up at 9:30 on a Sunday morning? I next awoke at 11, which was better.
I did some writing and soon it was time to go. The event was at Alvirne High School, in Hudson, a half hour's drive; the school was easy enough to find and had plenty of parking. The rally was in the main gym. Despite my being on time, it was already full of people on chairs surrounding a square speaking area, with more standing in the wedge areas between the four seated sections. It's a big crowd. (I checked the occupancy sign that's always present someplace in a public space like this, and it said the capacity for people in seats on the gym floor is 1,350.) I stood, and wiggled my way forward. The cameras and press, on a slightly raised platform, were arrayed behind the main seating section, facing the podium.
The warmup music included Sly's "Everyday People," the Supremes' "Keep Me Hangin' On," and Springsteen's "We Take Care of Our Own." (I'm sure that somewhere in this great land, a grad student in Political Science is doing a Ph.D. thesis analyzing candidates' walk-on and exit songs.)
Biden is introduced by Michelle O'Leary, a school psychologist whose son, then 4, had a seizure later found to be the onset of Batten disease, an extremely rare neurological disease with a bleak prognosis. He received a drug that was in clinical trials. He's now the first kid in the country with this disease to still be walking and talking on his own, at the age of 10.
It is a heart-rending and inspiring story, although its connection to Biden is not explicit. Presumably, the Affordable Care Act helps people pay for drugs they otherwise couldn't afford (such as after a clinical trial ends in approval); more generally, Joe too has endured heartbreaking losses and cares about people like this, with stories like this.
Joe then enters to huge applause and hugs Michelle. The start of his speech reinforced my concerns from seeing Biden on tv, as it was absolutely conventional: "Hello hello hello hello hello. It's great to be in Hudson."
But then, speaking conversationally, he builds onto Michelle's story with his own, about getting the diagnosis on his son Beau, and being told by the cancer doctor that all he could do was to "Go home and love him." The doctor asked Biden what Beau had planned to do and Joe had replied, "He was going to run for governor." The doctor said, "Let him run. There's always hope." That didn't pan out for Beau but might for Mrs. O'Leary's son and others.
Biden had brought notes with him but they are sitting on the lectern as he walks around, holding a long conversation with the various sides of the audience. He relates how people come up to him; how a man at one rally had nervously asked to speak with him, how they spoke afterwards and the man said he had lost his job. Joe talks about the day his own father told him and the family that he had lost his job and they would have to move (from Scranton PA to Delaware, where there were more jobs) but his dad had said, "It's going to be okay." Biden says he's worried that today, families in that position don't believe that it's going to be okay; that the faith and optimism are gone.
He switches to the story of a woman from Hudson who'd been abused and battered at home. He says the Violence Against Women Act must be re-authorized, but it's on Mitch McConnell's desk, because of a new provision that would bar abusive husbands, fathers or boyfriends from being gun owners. At this point, Biden suddenly raises his voice – he's yelling: "It's WRONG. Trump is owned by the NRA. It can't pass."
He does the same with his story of people lined up to get boxes of food on a freezing day. He yells "What is happening to us? This is the United States of America!" I've heard the story before from him, but more in sadness than anger. Though I'm sure the anger and shouting are scripted, they still make an impression.
He is still worked up, talking about white supremacists and how Trump later said "There are very fine people on both sides." Biden concludes that "This election, America's character is on the ballot." His ending is beautiful: "I've lost a lot in my life. Lost my wife and daughter in a car accident. Lost my son to cancer — but I'll be damned if I'm going to lose my country. It will not happen." You can imagine the applause.
Then he invites questions. Hands go up, he calls on people. All told, he takes at least a dozen questions – two or three times what I've seen other candidates take. And his answers are long, with stories and digressions: this man can talk and loves to talk. But he never got lost; the digressions were always brought back to reflect on the original question. He is in his element, not only getting to hold an extended conversation with a thousand people, but displaying depth (backgrounds of bills, US history, empathy) and breadth (familiarity with foreign rulers, areas of the US, demographics).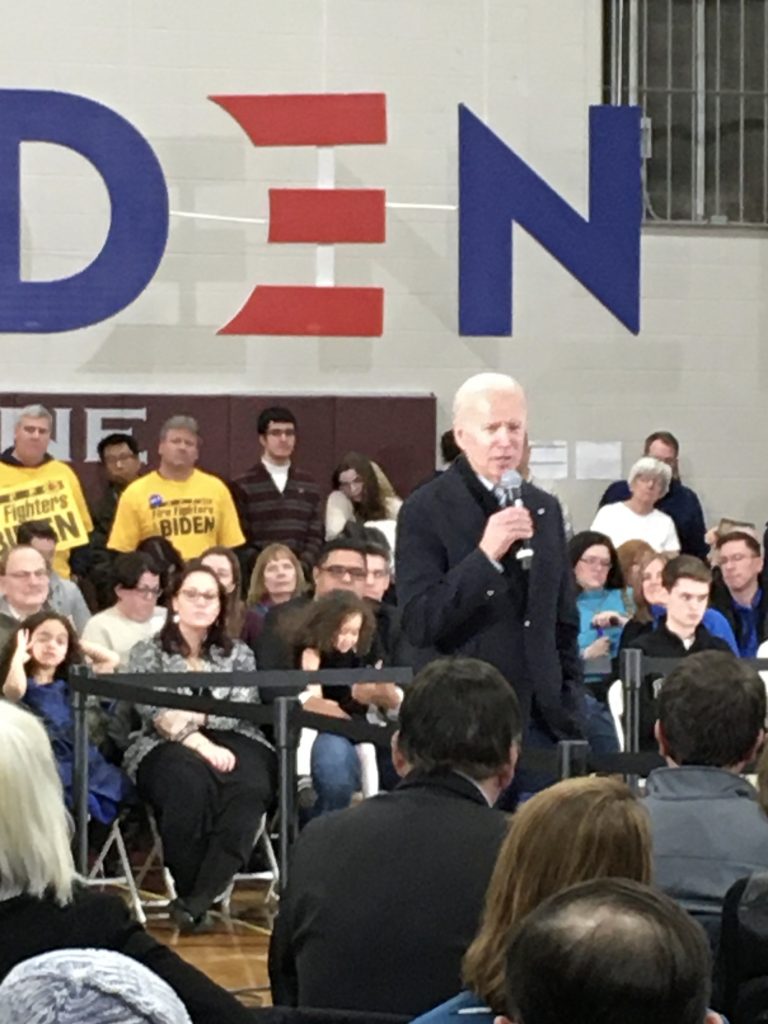 A few of the Q and A:
Q1: A woman says "I love you but I'm undecided." Biden says, "You sound like my old girlfriend." She has concerns about electability; Biden says "If I am the nominee, I will beat him." "Could you put a dream team together? any thoughts of people for vice president, defense, commerce?" All he can say now is, "my administration will look like the country."
Q2: About gun violence. Biden's answer is good, by starting off saying "I own two shotguns." He shoots skeet, and plenty of people hunt. They're not the problem. The Second Amendment is not absolute; no amendment is. You don't get to own a tank or a bazooka. No one should have an assault weapon, and no one needs a magazine with 30, 40, 50 rounds in it.
Q3: Man starts off "I'm 92 years old." Biden says "Let me see your license; I don't believe you." Man says "I haven't got one." We're all laughing. The man is worried about erosion of constitutional checks and balances. Biden says "I taught constitutional law for 22 years." Gives a mini-lecture on the three branches, says this president has clearly overreached more than any modern president; "that's not hyperbole, that's fact." Proud of his service in the senate, but "we don't have a lot of Warren Rudmans any more, or Dick Lugars." And goes into judicial appointments – his test would be whether a judge believes there are unenumerated constitutional rights. The Ninth Amendment says yes. Ends with "So we have to take back the Senate too."
Q4: From a boy of 8 or 10: what to do about all the plastic going into the ocean; fish eat it, it kills them. Biden says we need a deposit on plastic bottles; federal. He did the coastal protection act when he was in the Senate. Climate change is the most important global issue we face.
Q5: How quickly can you undo all that Donald Trump has done? Biden says if it's executive orders, I can undo them on the first day.
Q6: A woman who leans toward Buttigieg asks about plans to help Puerto Rico, because no candidates are talking about it. Biden says he's been there many times, as Puerto Rico is in the same judicial circuit (the 3d) as Delaware. And his wife headed up the Save The Children operation there following the hurricane. Largest Hispanic population in Delaware is from there. But Trump doesn't even know that Puerto Ricans are citizens.
Q6: Questioner urges Biden to pick someone from the top five candidates to be his running mate. Biden says his criteria are that it be someone younger than he, ready to be president on Day One, and with views similar to his. For example, no Medicare for All – too expensive. He says it would be presumptuous to name names, but "there are a number of people who I am simpatico with" like one "from Indiana." But "I'm going to get in trouble if I say any more." Also, among those who have already dropped out, potential cabinet members or national security heads. (Have we heard news here? Biden thinking of Pete for veep?)
Q7: An elderly woman in first row says "You would make America proud again." Biden gives her cheek a kiss, poses with her for a photo.
Q8: Drill in the arctic refuge? Biden is "totally opposed to it." Thinks he's the only candidate who has actually been there (went after the oil spill). And no more drilling on federal lands, at all.
Q9: How to restore the US's image across the world? Biden says on Day One, president has to be able to deal with international matters; no on-the-job training. I was chair of the Foreign Relations Committee; one reason that Barack Obama picked me. I know Putin; I know Xi Jinping. All politics is personal, and foreign policy is personal too. I'd tell NATO on Day One, "we're back." Must uphold Article 5. NATO is not a protection racket where we threaten our allies for money. Erdogan in Turkey has become an autocrat. I know Abe in Japan, need to restore the alliance between Japan and South Korea. We shouldn't have withdrawn 5,000 special forces from support of the Kurds. "He [Trump] doesn't have any idea of strategic thinking." Notably absent from Biden's answer is any popular promise about bringing troops home or staying out of wars. Maybe he just hadn't got to those points yet, but his choice at least to cite other things first is encouraging to me.
Q10: A woman who is on the autism spectrum – what will you do for people with disabilities? And thank you for the ACA and mortgage lending bill. Biden says extend ACA, with a public option, and it will provide that there is no difference between physical and mental illnesses; there is no shame in mental illness. I check the troops update every day. 6,905 killed in Iraq and Afghanistan. And 22 US service vets commit suicide every day. [Arthur's note: that figure included active duty plus vets. Current figures are 16.8 vets and over 3 active duty – still bad.] And Biden says he will propose to fund the Disabilities Act completely – cost, $45 billion.
I am impressed, and revise my view, mostly from the debate, that he had lost a step. If my choice is between Biden and Trump, I believe Biden will do less harm to the country's interests.
As he finishes, one of two young women standing in front of me turns around and recognizes me. Can this be? We say hello – again. Diligent blog readers might remember (from the "Team Bernie" post) that two days ago – Friday night – I met several Europeans at the Red Arrow Diner, including Celia from France and Giovanna from Italy. And here they are at the Biden event. My quick photo is unflattering but serves the documentary purpose: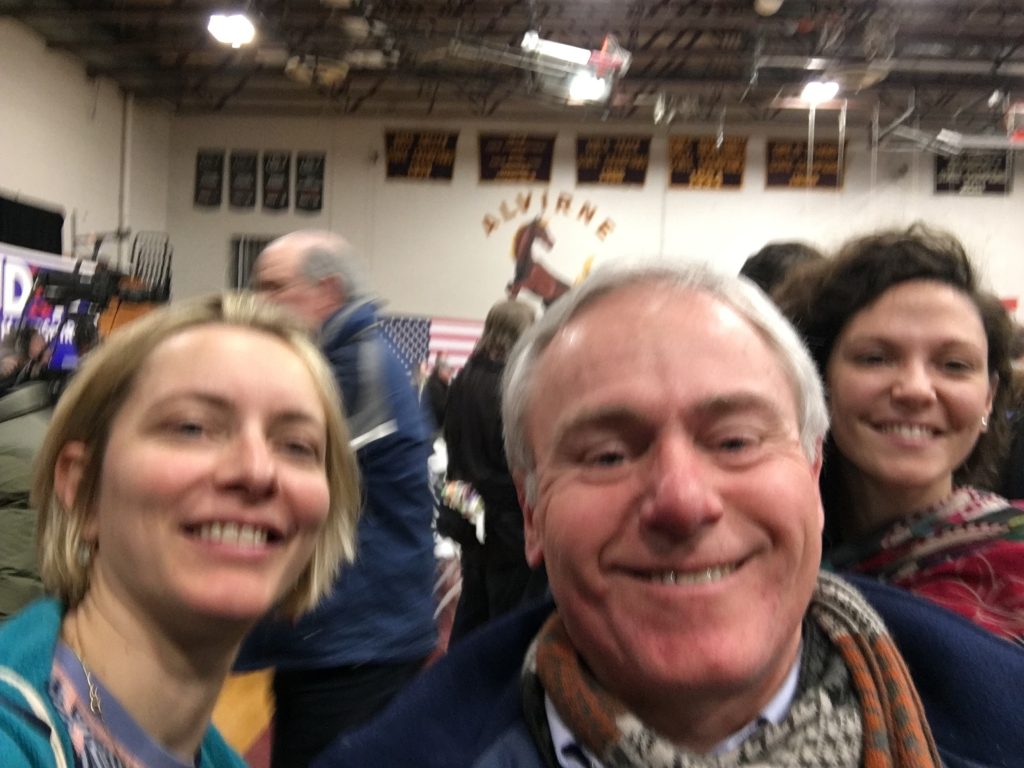 From here, they are headed back to DC and Brookings. I am headed back to Manchester, amazed once again at how paths intersect.
I bet this doesn't happen in Iowa.